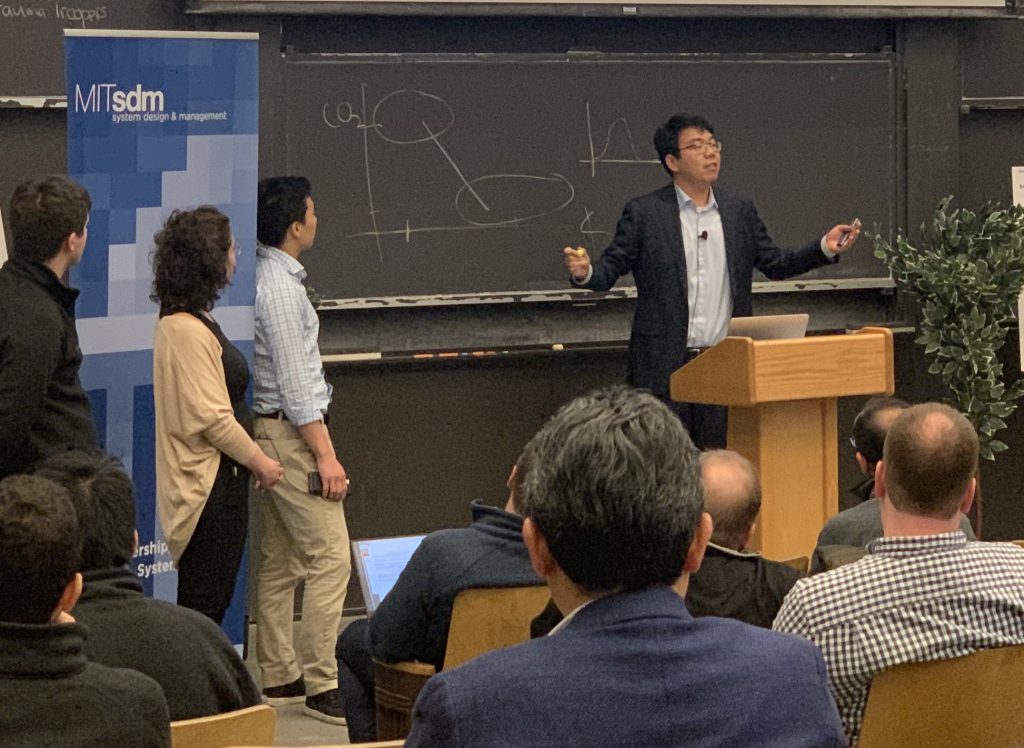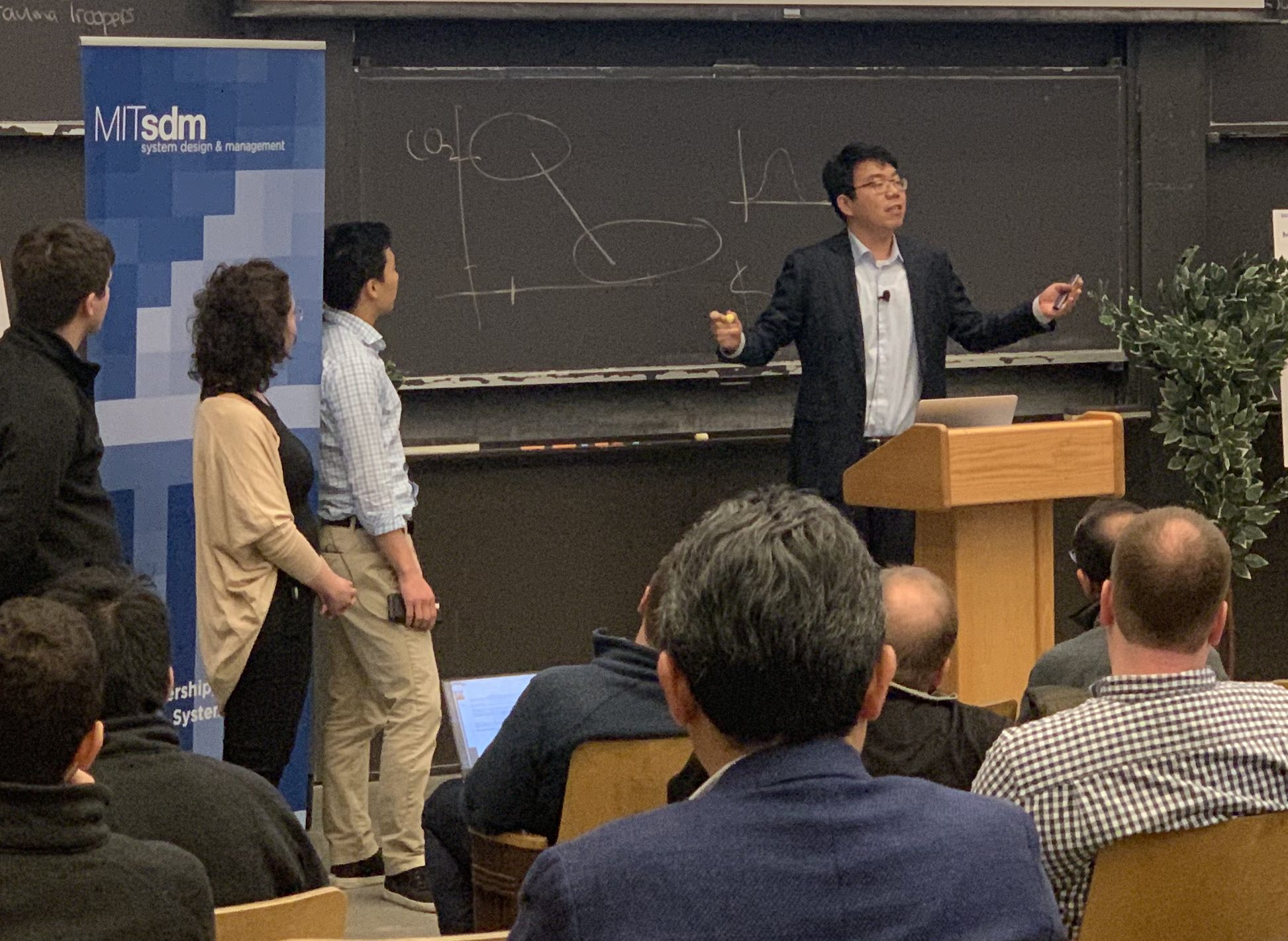 For the past four and a half months, System Design and Management students have worked with sponsors to solve real-world problems by using the skills and tools taught in the program's core class in systems thinking. On May 14 and 15, 2019, students presented the results of these spring projects to the MIT community in three parts.
Final presentations began with a poster session in MIT's Lobby 7 on May 14. Each team displayed a summary of its work and explained its project's challenges and potential solutions to MIT students, faculty, visitors, and community members passing through one of the most active locations on campus.
In one poster session, for example, Dai Lin gave a lightning review of her team's collaboration with Shell TechWorks (read more here). She explained the project, which centered on repurposing offshore oil rig platforms for renewable energy, and detailed how the team selected an architecture focused on hydrogen generation. In this design, offshore wind turbines would power batteries running a hydrolyzer, which would refine hydrogen to be sent to shore via repurposed oil pipelines. However, the team reached the conclusion that its ambitious plan was not likely to be financially viable in the short term, given current technology and the present economic viability of renewable energy.
On May 15, the core class concluded with two sessions of presentations for an audience of faculty, teaching assistants, fellow students, and project sponsors. Students delved into the details of their spring projects and explained how they had used tools taught in the core class to analyze problems and explore possible solutions.
For example, the TreatPath team mapped out a tradespace solution designed to increase patient recruitment in clinical trials for their project sponsored by the University of Massachusetts Boston Medical School. Students proposed juxtaposing integrability (a measure of how easy it would be to integrate the solution with existing record systems and maintain HIPAA security protocols) against utility (whether the solution could increase participant numbers while maintaining quality of patient care). Members of the Blockheads team, which worked with PerkinElmer, described how their stakeholder interviews and needs mapping led them to change their project framing almost entirely. Their final presentation focused on the need to challenge the framing of problems as presented and the importance of going beyond individual stakeholders' preferences and domain knowledge to understand the bigger picture.
"We were excited to see how well the teams synthesized months of effort into their posters and short pitches, all of which integrated engineering and business systems decisions to address the project challenges," noted SDM Academic Director Bryan Moser. "The teams leveraged new teaching on innovation and ideation and were able to increase the engagement of stakeholders and improve the quality of their systems projects."
To learn more about SDM's integrated core class and the program's certificate and degree programs, visit the education section of the SDM website. Those interested in sponsoring a future spring project are invited to reach out to SDM Industry Codirector Ben Linville-Engler at benle@mit.edu.