In the spring semester of the combined core class in systems thinking, SDM students put the skills and tools taught in the course into practice by partnering with sponsors to solve real-world problems.
This spring, students took on projects from a variety of industries, all of which offer challenges that systems thinking principles may solve. On March 16, students presented their midstream project updates to an audience of local and distance classmates as well as faculty and teaching assistants.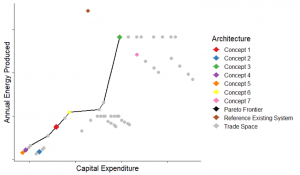 The presentations revealed how students focused their projects to tackle something manageable within a single semester. For example, Lisa Crofoot presented her team's work with Shell TechWorks on the reuse of offshore oil facilities, explaining that they chose to look at the possibility of using these facilities as hubs for renewable energy generation. This choice aligns with Shell's transition from an oil company to a holistic energy company and gives the students a chance to focus their efforts on an in-depth analysis of the many factors going into the future transformation of these facilities. Crofoot showed the class her team's morphological matrix and financial feasibility graphing and demonstrated how the team is mapping out areas of interest, stakeholders, and performance indicators.
In another example, Nestor Figueroa and Nick Dowmon described how their team zeroed in on a manageable project for the University of Massachusetts Boston Medical School, which is trying to increase and diversify the pool of patients recruited to its clinical trials. Figueroa explained that the team is focused on implementing a solution involving medical providers, because those providers are already trusted by the people that the medical school hopes to recruit into trials. In addition, working with providers offers patients the chance to participate in trials without interrupting their current programs of care.
Several presenters described the challenges they have faced getting their projects under way. Some teams, for example, reported having difficulty getting data from sponsors due to legal issues or a lack of understanding about what information would be needed for proper analysis. Brady Hammond highlighted his team's trouble dealing with sources of information who are invested in the current state of affairs, such as contractors who have no incentive to support changes to the system.
Going forward, all of the teams will face issues and setbacks like these; that's what comes with tackling real-world problems. We'll provide further updates through the semester, leading up to the students' final presentations in May.