MIT SDM Systems Thinking Webinar Series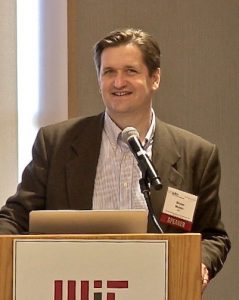 Speaker: Bryan Moser, Academic Director of MIT System Design and Management
About the Presentation: MIT SDM's new core curriculum has been developed over five years to integrate capabilities in system architecture, system engineering, and project management. The courses support the development of engineering leaders to navigate, frame, and analyze decisions in tradeoff across stakeholder, functional, and implementation strategies. Additionally, research has been launched — only recently feasible — on the performance of the "team of teams" required to solve complex engineering challenges. These research projects leverage both model-based systems methods and highly instrumented engineering teamwork experiments. This talk by Dr. Moser, the Academic Director of MIT SDM, will introduce the learning objectives and outcomes of the new SDM curriculum as well as an introduction to research on the underlying behaviors, architectures, and dynamics of teamwork for complex systems projects.
About the Speaker: Moser has been lead instructor and a member of SDM's core faculty since 2013. He currently serves as associate director of MIT's Strategic Engineering Research Group and is a project associate professor at the University of Tokyo and director of its Global Teamwork Lab. In the past, Moser has taught leadership development in MIT's Technology and Policy Program (TPP). He holds a Ph.D. from the University of Tokyo's Graduate School of Frontier Sciences and earned his B.S. and M.S. from MIT.
About the Series
Sponsored by the System Design & Management (SDM) program at the Massachusetts Institute of Technology (MIT), the MIT SDM Systems Thinking Webinar Series features research conducted by SDM faculty, alumni, students, and industry partners. The series is designed to disseminate information on how to employ systems thinking to address engineering, management, and socio-political components of complex challenges. Recordings and slides from prior SDM webinars can be accessed here.