Editor's Note: This article was written as an overview of Innovation Discovery Japan 2020 and was initially scheduled to be published this spring. Due to the Covid-19 pandemic we chose to delay publishing. IDJ 2021 will be a virtual experience, and we are presenting this article now to give students an idea of what the trip has been like in the past. If you are a current MIT student interested in participating in IDJ 2021, please visit the IDJ homepage and IDJ Facebook.
Report by Masato Kawano and Shunsuke Kuribayashi, SDM Fellows
Overview: What is IDJ?
Innovation Discovery Japan (IDJ) is a tech trek to Japan in which MIT students and researchers visit technology-oriented Japanese companies and research institutes. IDJ was established in 2017 by Japanese students at MIT to build networks between MIT and Japan by exposing MIT students and faculty to Japanese technologies and businesses. The fourth trek, IDJ '20, took place on January 27-31, 2020.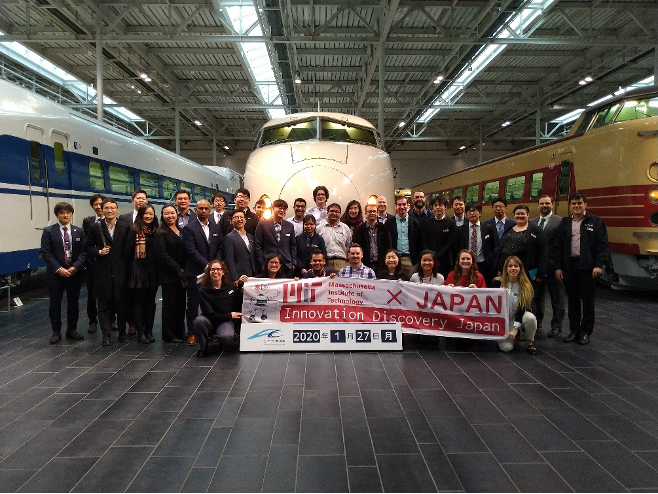 IDJ'20 participants come from diverse fields and programs within MIT, which allows them to learn from each other as well as from the companies. Thirteen SDM fellows participated in IDJ'20, which was led by eight Japanese students from SDM. These SDM students (Koji Nakashima, Yuki Soeda, Ryuichi Takagi, Yasutsugu Tamura, Keiji Kimura, Tomohisa Okamoto, Masato Kawano, Shunsuke Kuribayashi) organized company visits and managed logistics for the tour.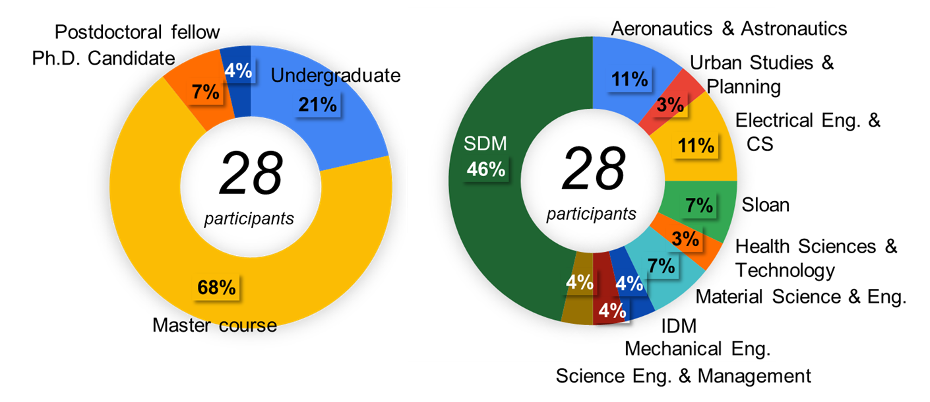 We spent five days visiting companies in Nagoya, Kyoto, Osaka, and Tokyo. The participants were divided into groups based on their interests; during the trek, we visited 23 companies. To meet the diverse interests of participants from different backgrounds, we selected companies from a variety of industries and in a range of sizes from large, established companies to small startups.
Company Visit Reports
Toyota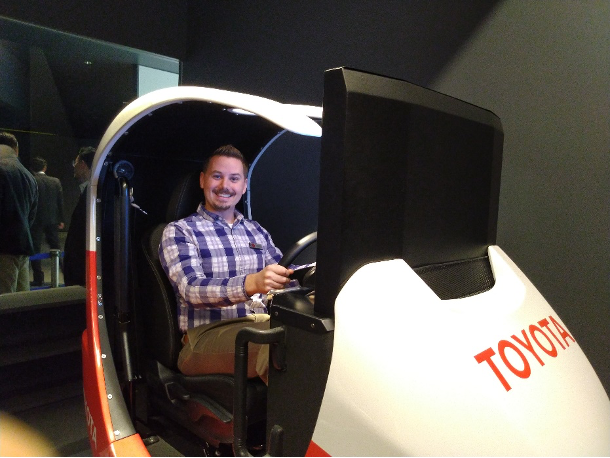 Toyota is a global leader in automobile manufacturing and has been solving the world's mobility requirements since 1937. We visited the company's Tsutsumi plant, where we got a glimpse of the manufacturing process in real-time, and the Kaikan museum that showcases the company's technologies as well as their vision for the future. We were also presented with a walk-through of Toyota's history, scale, impact, ambitions and research, followed by a very insightful discussion about the company's values, responsibilities towards society and the environment, and its vision of the future of mobility.

The Tsutsumi plant produces 430,000 mobility units (not vehicles) yearly with the help of 1900 robots and highly trained employees. It serves as the "mother plant" for 5 plants spread across 4 countries, including the United States and the United Kingdom. The plant also demonstrates Toyota's commitment to environment and sustainability initiatives; nearly 50% of the electrical energy required is produced on-site by solar panels. The staff can assemble different variants of the same model on the same production line at the same time. The Kaikan museum, on the other hand, gave us a glimpse of what the future looks like, along with the various innovative technologies and architectural decisions that Toyota has made across its lifetime.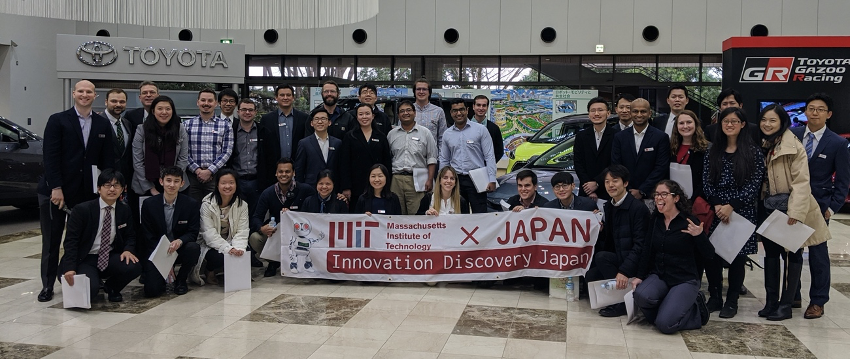 Spread
Spread is a company that uses vertical farming to grow four types of lettuce in large quantities. It has two factories in Kyoto, and its produce is being sold in about 2,500 stores across Japan. Spread's first factory relies on workers to manually complete many steps of the growing process, while its second factory is nearly completely automated.
One of the main goals of Spread is to eliminate hunger by providing a way to grow vegetables in areas where farming is impossible or impractical. The company is eager to bring its technology and business model to other countries. They are also working on the ability to grow other plants such as strawberries and mushrooms. Mushrooms are especially promising because they require no artificial light, which is the largest energy requirement in the vertical farming process.
During our visit, we received a presentation from representatives of the company about the technology they use and their business goals. We were able to see the automated vertical farm in action and to taste the different types of lettuce they produce. Spread hopes to continue to make vertical farming more economical and environmentally friendly. It's possible that we could see their factories in many other countries soon, including the United States.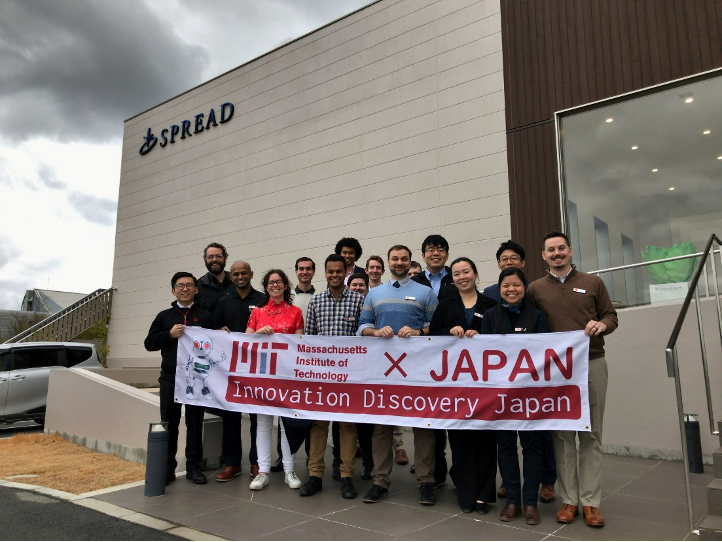 SECOM
SECOM is a security services company founded over fifty years ago. We witnessed a demonstration with Yuji Misaki, director of the Intelligent Systems lab (pictured at left) of some of their recently launched technologies. These included a zeppelin-style airship to monitor massive events, security cameras integrated into security guards' uniforms, and their geo-reference CCTV network platform. We also got to spend quality one-on-one time with SECOM's engineers over lunch.
One novel aspect of the day was a profound reflection on the company's concept that resonated quite well with the ideas taught in the System Architecture portion of the SDM core: conceptual intent, solution-neutral function, and system. Furthermore, they taught us about authentic Japanese elements of a company that align with the "mission, vision, and strategy" that are so commonly used to define a company.
In the follow-up conversation, we had a clear description of SECOM's strategy when it comes to automation and its impact on their security business: "monitoring has to be done by machine, but humans must perform the action. This is key for our business scalability".
ABMES
The Institute of Advanced BioMedical Engineering and Sciences (ABMES) is a joint project of Tokyo Women's Medical University and Waseda University, a research institution that specializes in medical engineering. This institution brings together doctors, scientists, and engineers to create innovative products in an interdisciplinary fashion.
During our visit, ABMES explained their work on cell sheet technology, used in regenerative medicine. Researchers have used this technology to restore functions of many mammalian organs, such as the cornea. We were impressed by the description of how his team has successfully generated corneas from patients' own cells and performed corneal transplants in a number of patients.
After that, ABMES introduced us to an innovative operating room named Smart Cyber Operating Theater (SCOT), which integrates data from many medical devices into a single system that improves precision of surgery. This is in contrast to traditional operating rooms where most equipment is not integrated and many devices are not physically present in the operating room.
It was an eye-opening experience to learn about these innovations. The cell sheet technology would be very useful for patients who require organ transplantation and can be superior to donor organs because organ rejection would not occur. The Smart Cyber Operating Theaters would be very important for surgeons and patients, supporting decision-making during surgery and theoretically reducing mortality rates through better recommendations.
We were impressed by how individuals from such diverse backgrounds and expertise worked together so effectively in a team. The professors explained that they share a vision: to create new technologies that can help patients. This core value unites their teams from different disciplines.
Participant Experiences
Brendan Kelly Horton
The IDJ trek was a truly wonderful and deeply personal experience for me. Overall themes of higher purpose were omnipresent for the duration of the trip. We got extraordinary opportunities to see bleeding-edge technology development – from batteries to space elevators – but surrounding the technology was the constant question of "why?" Why spend one's considerable talents and time on a project if there wasn't a grounded reason? Unlike many experiences I have had in American business environments, the purpose seemingly could never be "profit." No, in the IDJ excursion, all of the company's leadership forced us to ponder deeper justifications for work. What value do we bring to humanity? How does developing a new car add to the human experience? Toyota had an answer. Why do trains mean more to us than just a way to travel? JR had an answer. How does a robot that plays table tennis make us better and more empathetic creatures? Omron had an answer. The tie to the spirit of MIT couldn't be clearer – mens et manus after all! Seeing the how these wonderful technological innovations are blossoming (for instance, the Jidoka concept made flesh in the auto plant) is spectacular, but why these specific technologies, why now, why here, and so forth are answered with each step through the itinerary.
I wish that I could relay these answers to an audience seeking to know what it means or what it feels like to attend IDJ, but just as the concrete financial margins were not the purpose of the technological exercise, words can't sufficiently encompass the spiritual growth that I felt in Japan. Stories abound about the generosity of the hosts, the guides, the leaders, and the collaborators. There are sufficient tales about the sense of awe one experiences traveling to a new place and immersing oneself in a new cultural experience. If I could offer one pearl of wisdom from my time in IDJ it would be this: IDJ is indeed a place for open minds and to the most daring, open hearts.
Allison Tianyun Zhang
Going on IDJ was a tremendous opportunity. I had visited Japan previously as part of a sabbatical through my work, and I was impressed by the level of service, dedication, and pride of everyone who I encountered from a visitor/tourist perspective. I came back from that trip very inspired to bring the same level of pride, talent, and skill to my work. To then return as part of IDJ to witness the business side of things was even more enlightening. IDJ gave me a whole new perspective toward the fundamentals on how to approach an important problem for an industry (automotive, like Toyota), for a population (transportation, like Central Japan Railway Company), or for the world (sustainability & reducing our dependence on plastic, like TBM (Times Bridge Management – Limex). The companies we visited and the staff we were able to interact with showed us both the importance of the issue at hand, but also the unique way their company was tackling the problem – via a combination of management, company culture, a focus on technology & innovation, etc. Having worked at only one company for 9 years prior to my time at MIT, I found extreme value in visiting the 10 companies across different industries. I also found a lot of value being able to interact and ask questions of different roles at each of the companies – ranging from a director of marketing, to a manager of orientation and museum curation, to co-founders of a start-up. The IDJ organizers not only did a fantastic job with all of the logistics of a large group traveling across the country, but also an amazing job curating the list of companies to visit so that we saw a wide breadth of types of companies. This trip inspired me to look for possible internships in Japan to build further on my experiences, but also long term, to look for careers with companies that have a global footprint, particularly those that have a branch in Japan. I valued literally every minute I was in Japan (both the few days early that I went and the IDJ trip itself) – Japan's a phenomenal country to visit & to learn from!