by Naoki Kobayashi, Yoshiki Shoji, and Yuya Makino
Overview
What is IDJ?
Innovation Discovery Japan (IDJ) is a tech trek to Japan in which MIT students and researchers visit technology-oriented Japanese companies and research institutes. IDJ was established in 2017 by Japanese students at MIT to build networks between MIT and Japan by exposing MIT students and faculty to Japanese technologies and businesses. The fifth trek, IDJ '21, took place on January 24-29, 2021, and was delivered remotely due to the COVID-19 pandemic.
Demographics
IDJ'21 participants come from diverse fields and programs within MIT, allowing them to learn from each other as well as from the companies. Fourteen SDM fellows participated in IDJ'21, including the seven leaders. These SDM students (Keiji Kimura, Masato Kawano, Shun Kuribayashi, Tom Okamoto, Naoki Kobayashi, Yoshiki Shoji, and Yuya Makino) organized company sessions and managed logistics for the virtual tour.

Virtual IDJ
Due to the COVID-19 pandemic, IDJ'21 was the first to be held completely remotely. We took advantage of this opportunity to set up sessions for companies that were difficult to visit in previous years due to location constraints. Students who were not in the U.S. could also participate in the event, making it a highly flexible event. During the trek, we virtually visited 10 companies. We also held two cultural sessions to complement the Japanese cultural experience.
Company Reports
Asahi Shuzo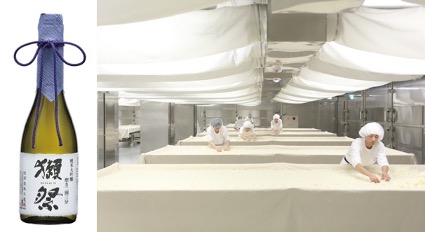 Asahi Shuzo is one of the leading Japanese sake breweries that only produces high-quality Junmai Daiginjo sake, called Dassai. Mr. Kazuhiro Sakurai, the fourth CEO of Asahi Shuzo, presented on the company's journey and shared insightful information about Dassai.
Although Dassai has been distributed and recognized globally, Asahi Shuzo still believes in the value of making sake by hand and employs more workers than any other sake breweries in Japan. However, they also have started to utilize other technologies to keep up with the larger production, especially for data analysis and the potential use of artificial intelligence. On top of the commitment to produce the highest quality sake, Asahi Shuzo is also expanding globally. The first US Sake Brewery will be opened in New York, US, in 2022. During the presentation, Mr. Sakurai also described the general sake-making process: rice washing, water-content controlling, koji making, fermenting, and tasting. On the production floor, the temperature needs to be kept around 5° C (41° F) to imitate the cold winter condition that is considered the best time to create sake. Asahi Shuzo follows one process principle in creating Dassai, called PDCA: Plan, Do, Check, and Action.
Obayashi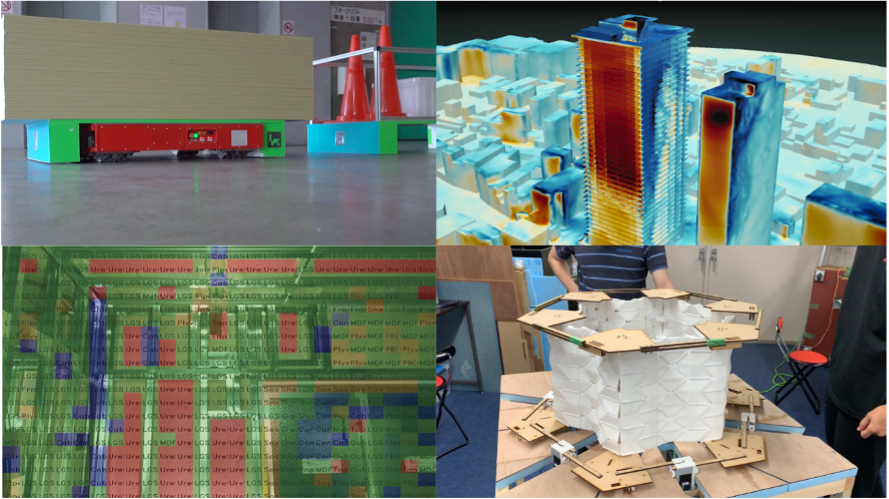 Obayashi is one of the five most prominent construction companies in Japan. During our virtual visit, Mr. Naoki Kajita, executive officer, introduced us to the background of Obayashi and how the company will continue to make an impact on society by expanding its business in agriculture, renewable energy, and space systems.
Thereafter, the discussion was divided into two sections. One group learned about Obayashi's advancement in material handling systems, countermeasures for strong wind disasters, and space ports. The other group heard about progress management using artificial intelligence, alternative sources for hydrogen gas, and designing lunar habitats using origami techniques. We heard from a number of experts in multiple departments who shared their expertise.
teamLab
teamLab is focused on the creation of immersive art made using digital technology. We learned about the visions behind the artwork from Takeshi Yamada and Jasper Degens, with key concepts of transcending boundaries and co-creation. The works they make for their teamLab Borderless museums are not meant to be contained in one space; they often move around rooms, and even between museums in different countries. In the artwork "Flowers and People: Lost, Immersed and Reborn", flowers grow on the ground around people who stand still and disperse when people are moving around the room. Because of this, visitors are parts of the exhibits themselves. teamLab has also worked on exhibits aimed towards children where their drawings are scanned, then added to the interactive exhibit. These exhibits become more exciting and complex with more people involved. During Covid, teamLab has also released an at-home exhibit where anyone around the world can add a flower to a digital artwork and enjoy it together.
Working as a diverse group of experts to accomplish their artworks, teamLab is structured into six rough groups: these teams cover 3D modeling and textures, data processing, interactivity, sound, hardware and applications, and the "catalyst" or project manager and producing team. On teamLab projects, there is often only one member from each group on a project, and therefore the project team members have the opportunity to take on projects with personal agency.
Jasper also talked about the technical aspects that enable them to put on such large interactive displays. Each exhibit can take dozens of machines running behind the scenes as a result of the sheer computational power needed to make the interactive exhibits respond to the viewer quickly. Due to the large size of the art, sometimes they have to test their exhibits full-scale for the first time at opening. Viewers can also end up interacting with the shows in surprising ways, leading to some unexpected (but still beautiful) results. While teamLab doesn't necessarily develop and pioneer new technologies, what makes them stand out is the speed and scale at which they use technology to produce such great works of art that transcend boundaries and strengthen human connection.
ispace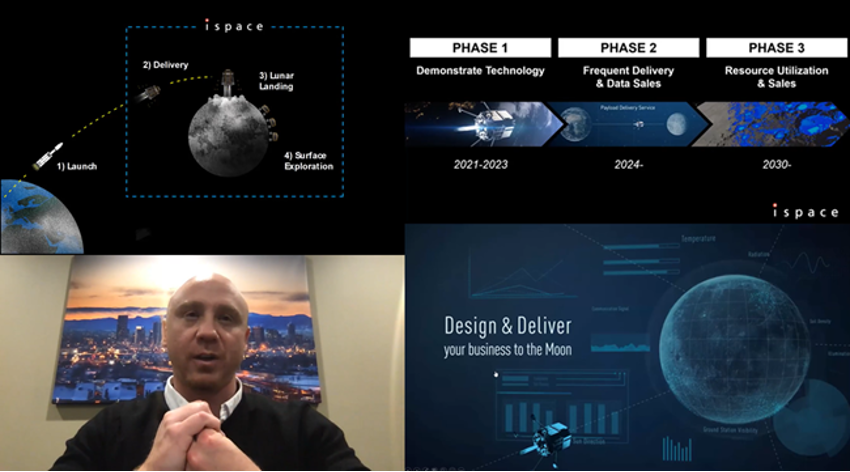 ispace, which was founded in 2010, is primarily made up of engineers – over 67% of their 124 employees, in fact. Kyle Acierno, CEO of the U.S. office, introduced the students to the company. The business model involves 3 pillars. These include a payload service, that will use ispace-designed lunar landers and rovers to deliver payloads; a data service, which will involve data collection and a platform for business planning; and a partnership service, in which non-space partnerships will enable further development of ispace's vision for 2040. ThMoon Valley, the first lunar city founded on lunar exploration, resource extraction, and development of a spaceport hub for the future. Current customer targets for ispace are space agencies, research institutions, and private companies (e.g., software, construction, transport, etc.), with data needs that include rover imaging, terra-mechanics, subsurface structure, and resource information. Future customers and partners will span many industries, including energy, telecom, construction, food & beverage, automotive, and robotics & AI.
The introduction to the company was followed by an extended Q&A with ispace founder and CEO Takeshi Hakamada. Questions from the MIT students covered exploration methods, regulatory issues, and ispace's evolving business model as the one Earth-Moon ecosystem is fully established by 2040 and beyond. The session concluded with a closing greeting from Adriana Mitchell and visions of future possibilities for all in attendance.
Participant Voices
Karthik Rajasekaran  
This year (2021), IDJ was virtual due to COVID, but still managed to give me an improved perspective of Japanese companies. Before attending IDJ, I didn't know much about innovation in Japan. The organizers lined up for us represented a diverse slice of modern Japanese companies: there were big companies (Sony, Fujifilm), smaller companies (Asahi Shuzo), startups (Euglena, TBM), "traditional" companies (Obayashi), "non-traditional" companies (CIC, teamLab) – just to name a few. It was amazing to see how the theme of innovation was so strongly present across this diverse sample. I found it deeply inspiring to see the extent to which the passion for innovation was woven into these companies. By the end of IDJ, I couldn't help but think about how much innovation was present in the environments I worked in and what these Japanese companies showed was possible. Before IDJ, I never put much thought into working for a Japanese company – by the end of IDJ, I was seriously considering it! I'm glad to have gained a new perspective from this virtual experience, and I am eagerly looking forward to visiting Japan in person when it becomes possible!
Yunke Hua
I am so glad that IDJ still happened this year during such difficult times. Although we did not get the chance to have sushi and ride Shinkansen together, we connected online from different parts of the world. And the virtual tours to various renowned Japanese companies certainly exceed my expectation provided that everything is virtual. It was an eye-opening and immersive experience to see various cutting-edge technologies with great effort from the companies and IDJ organizers. Personally, I really loved the virtual tour given by Sony. In the tour guided by two very professional hosts, we got to see a variety of Sony products including a seamless giant LED screen, all generations of PlayStation, their motion camera and smart phone series, and many more. We even got a chance to interact with the famous AI dog robot "Aibo" which was really cute.
In addition to the main tour, the organizers also prepared fancy goodies (snacks, a jacket with an original IDJ logo, and even Dassai with a color changing sake cup!) and fun activities such as Nomikai and a Japanese language lecture which I all really enjoyed from the comfort and safety of my own home!