MIT Systems Thinking Webinar Series
Ellen Czaika, PhD, Head of Global Engagement, Gamaya; SDM Alumna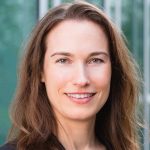 Date: April 10, 2017
About the Presentation
Supply chain partners often work together to negotiate a more environmentally friendly end of life for their product. However, while they can typically agree on issues such as sustainability, environmental protection, financial feasibility, and social impact, partners are frequently unable to reconcile disparate business strategies. This can result in serious disagreements about how to reach common goals.
In this webinar, SDM alumna Dr. Ellen Czaika, head of global engagement at Gamaya, will discuss her research into whether a life-cycle assessment model can help. She will:
explain what a life-cycle assessment model is, why such a model can improve negotiations, and how she tested the model's benefits in her research;
compare the benefits of using an expert-created model versus one created by the parties involved;
detail ways to use the model to test alternatives; and
provide recommendations for other sustainability negotiations.
A Q&A will follow the presentation. We invite you to join us.
About the Speaker
Dr. Ellen Czaika is head of global engagement for Gamaya, a spinoff of École Polytechnique Fédérale de Lausanne that uses machine learning on hyperspectral imagery to help farmers increase their crop yields to feed the growing global population. Czaika holds a PhD from MIT and two master's degrees: one in in applied statistics from the University of Oxford and one in engineering and management received as a graduate of MIT System Design & Management (SDM). Her doctoral research builds on her SDM master's thesis and investigates how quantitative models can be used in sustainability negotiations and decisions. She currently applies this interest in data-driven decision-making to the precision agriculture domain.
About the Series
Sponsored by the System Design & Management (SDM) program at the Massachusetts Institute of Technology (MIT), the MIT SDM Systems Thinking Webinar Series features research conducted by SDM faculty, alumni, students, and industry partners. The series is designed to disseminate information on how to employ systems thinking to address engineering, management, and socio-political components of complex challenges. Recordings and slides from prior SDM webinars can be accessed here.