MIT SDM Systems Thinking Webinar Series
Eric Ward, CEO, Odyne Space; CEO, Aten Engineering; SDM Alumnus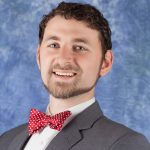 Date: Tuesday, September 12, 2017
About the Presentation
MIT SDM alumnus Eric Ward is a "space-faring" pioneer. Ward uses system design, architecture, and other systems-based methodologies to help "astro-preneurs" create new products and services—as well as supportive infrastructure—for emerging markets in space.
In this webinar, Ward will:
describe the underlying drivers of the space market—humanity's desire to explore, invent, improve, and expand;
provide an overview of possibilities envisioned by the traditional space industry, entrepreneurs, government, academia, and other stakeholders;
offer examples of current and planned projects.
Attendees will learn:
how systems-based methodologies can be used to create a framework for developing new products, services, and profit models;
how these same tools can be employed to design the infrastructure needed to make space projects a reality; and
what a prosperous society in space might look like and how it could emerge.
About the Speaker
The CEO of Odyne Space and Aten Engineering, Eric Ward is a systems architect who believes that cultivating the private space industry is the next step to expanding humanity's reach beyond Earth. In addition to publishing several technical documents on system architecture and the space industry, he has been featured in Fast Company and GeekTime. He also co-founded the MIT New Space Age Conference. Ward recently earned a master's degree in engineering and management from MIT through the System Design & Management program. He also holds a bachelor's degree in mechanical engineering from Oregon State University. His Erdős number is 4.
About the Series
Sponsored by the System Design & Management (SDM) program at the Massachusetts Institute of Technology (MIT), the MIT SDM Systems Thinking Webinar Series features research conducted by SDM faculty, alumni, students, and industry partners. The series is designed to disseminate information on how to employ systems thinking to address engineering, management, and socio-political components of complex challenges. Recordings and slides from prior SDM webinars can be accessed here.