A graduate of MIT System Design & Management, a master's program offered jointly by the MIT Sloan School of Management and MIT's School of Engineering, Almossawi sparked a word-of-mouth phenomenon with his first illustrated book, Bad Arguments. More than 2.7 million people have read the book, which features funny, clarifying explanations of complex subjects along with amusing illustrations drawn by his collaborator Alejandro Giraldo. Bad Arguments has been translated into 17 languages.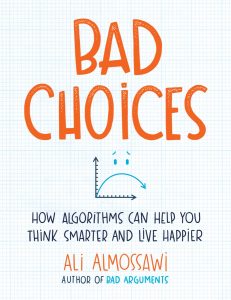 In Bad Choices, Almossawi uses entertaining stories and whimsical illustrations to demystify a topic of increasing relevance to our lives—and he does it in fewer than 200 pages. Almossawi reveals that we all use complex math more frequently than we realize. In fact, every day people apply algorithms to solve such problems as finding pairs of socks in a pile of clothes, deciding when to go to the grocery store, and determining how to prioritize tasks for the day.
Bad Choices acquaints readers with algorithmic thinking by highlighting different ways of approaching tasks and pointing out how these approaches fare relative to each other. It's the perfect book for anyone who's looked at a given task and wondered if there were a better, faster way to get it done.
Here a few of the questions that Bad Choices will make you consider:
Why is Facebook so good at predicting what you like?
How do you discover new music?
What's the best way to organize a grocery list or sort your laundry?
What's the secret to being more productive at work?
How can you better express yourself in 140 characters?
Almossawi credits his time at SDM with helping him learn the "thinking about thinking" approach he uses in his book. "I came from a computer science background; many of my classmates came from other engineering disciplines. Putting that kind of a mix of people into the same space and asking them to solve problems is just a fantastic learning experience," he said. "SDM made me appreciate the value of domain-agnostic and general-purpose engineering tools."
In Bad Choices, Almossawi uses such thinking to provide a guide to better choices—borrowing from the very systems that underline word processing, Google search, and Facebook ads. Bad Choices focuses on intuition-building and thinking, leading to learning that is more personal, transferable, and timeless. Once you recognize what makes a method faster and more efficient, you'll become a more nimble, creative problem-solver, ready to face new challenges. Bad Choices will open the world of algorithms to all readers and is sure to be a perennial go-to reference for fans of quirky, accessible science books.
About the Author
Ali Almossawi is the creator of An Illustrated Book of Bad Arguments, which has been read by 2.4 million readers and translated into 17 languages (11 translations were done by volunteers from across the world). Now a principal data visualizer at Apple, Almossawi previously worked on the Firefox team at Mozilla. He is an alumnus of MIT System Design & Management, a master's program offered jointly by the MIT Sloan School of Management and MIT's School of Engineering, where he earned an SM in engineering and management. He also holds a master's degree from Carnegie Mellon's School of Computer Science. In addition, he has worked as a research associate at Harvard and as a collaborator with the MIT Media Lab.
http://almossawi.com/
@alialmossawi
BAD CHOICES: How Algorithms Can Help You Think Smarter and Live Happier
Ali Almossawi
Viking / On-Sale: April 4, 2017
ISBN: 9780735222120/ Price: $20.00
ALSO AVAILABLE AS AN E-BOOK