MIT Grad Reflects on How SDM Furthered His Life's Mission
By Rajesh Nair, SDM '12
The challenge: The world needs entrepreneurs for many reasons: to create jobs, to create wealth, and to develop new ways to address societal challenges. In 2007, when I was a student in MIT System Design & Management (SDM) and a Tata Fellow, I decided to find ways to create entrepreneurship communities in India's underserved areas. My goal was to nurture aspiring student entrepreneurs and thus change villages, towns, and ultimately, the nation.
Today, most government and private initiatives that aim to develop entrepreneurs in India provide them with mentoring support during a startup's early stage. However, this has not produced intended results. A simple systems dynamics model reveals that this is primarily due to the scarce supply of aspiring entrepreneurs.
This, in turn, appears to arise because not enough young people are being inspired, educated, and supported by their educational institutions, families, and communities to pursue entrepreneurship. In essence, we need to cultivate aspirants by giving them ample opportunities to learn the fundamentals of business before they take on their first real startups.
This was a challenge I understood personally. When my first company failed and I lost much of my own funds, I thought perhaps I was not born to be an entrepreneur. Close friends and family felt I should abandon my startup dreams and get a desk job. However, despite—or perhaps because of—my prior failure, I learned invaluable lessons and therefore felt better equipped than ever to succeed. I later applied the lessons I had learned to my second and third startups, which were progressively more successful.
The question was: How could I use my personal experience, my Tata fellowship, and my SDM thesis research to create a training process to catalyze and nurture young innovators and prospective entrepreneurs from underserved areas who otherwise would have simply taken a job?
The approach: As an SDM fellow and a systems thinker, I decided this would be the focus of my master's thesis. I began by exploring the existing ecosystem to better understand why potential startup founders were not getting the help they needed. I traveled to several rural towns and villages in India as well as to nearby universities to explore how entrepreneurs could be nurtured to create long-term, systemic social impact.
I found students in rural colleges were as intelligent as their peers in top schools anywhere. However, they lacked exposure to a broad range of topics. By contrast, their peers in top schools learned new concepts faster through interpolating and extrapolating from adjacent concepts that they already knew. I believe what one already knows is a significant indicator of how fast one can learn a related concept, and fast learning of new topics builds one's self-efficacy.
Self-efficacy, or the confidence to face an unknown challenge, is a key factor in determining whether one can "make it" as an entrepreneur. Self-efficacy develops through an iterative process that involves:
attempting challenges outside one's current abilities,
facing failures and learning from them, and
repeating the effort and thus expanding one's zone of competence.
However, there were several barriers to developing an academic system that could cultivate creativity, foster entrepreneurial courage, and build self-efficacy. These included:
Educational norms. India's academic system largely focuses on rote memorization, not creative thinking. The goal is for students to pass technical licensing exams and get jobs.
Family expectations. Families typically encourage students to get jobs, rather than start businesses, because there is a common belief in India that entrepreneurship is too risky.
Community limitations. While the spirit of innovation in individuals is high in India, the actual drive to share lessons, propagate entrepreneurship, and create systemic change is not—due to cultural factors that limit the opportunities for scaling the solution across the nation.
I chose to address the entrepreneurship challenge by building students' self-awareness and self-efficacy through developing an educational program grounded in systems thinking that could be adapted as needed by others and scaled across India. As an engineer, product designer, and entrepreneur, I focused on one question: Could students learn to design multidisciplinary product systems if we helped them learn skills in different disciplines such as team ideation, user experience, mechanical and electrical systems, and basic coding?
That question led to others:
Would applying their lessons learned to designing products enable students to relate better to what is taught in the classroom?
Would learning to design inspire them to create products that can help solve real-world problems?
Would that, in turn, lead students to consider the possible commercialization of these products?
Ultimately, would all this inspire students to take the nontraditional path of entrepreneurship?
The process: I developed and conducted a series of workshops to introduce students to different phases of product development and give them opportunities to move beyond their own thresholds of fear and limitation. I also worked with students individually to help them realize their potential to achieve entrepreneurial goals.
To move students through the process, I created a curriculum based on my own life experience and what I learned at SDM that focuses on the transitions I made—from a child growing up in a village in India, to new graduate, to product designer, and entrepreneur. This consists of four stages:
Zero: Students with unrealized potential looking to graduate and find steady jobs. Most university students fall into this category, many of them influenced by their parents' career views and by social pressures to "settle down."
Maker: Students learning to design and make prototypes and products. I use current technologies, such as digital fabrication, to teach students to rapidly design and create products. I created a program called 48-Hour MakerFest where attendees learn to ideate, design, and fabricate prototypes. Students learn to make things in teams and demonstrate their products in just two days.
Innovator: Students learning to identify and solve unmet human needs. I introduce design thinking to teach students to observe, engage, and empathize with customers; to identify and define needs; and ultimately to develop and validate solutions. I created a weeklong workshop that takes students through the making and design thinking process to create and demonstrate solutions for real problems in the community.
Entrepreneur: Students learning to launch a venture to commercialize solutions that address real-world needs. I developed a two- to four-week-long boot camp that takes the students through making, design thinking, and the startup process. In 2016, this became an accredited course at the University of Rhode Island.
In my classes, students learn to apply design thinking principles to identify needs, evaluate them as business opportunities, and then create solutions. They are asked to:
visit places outside their comfort zone—such as tribal villages, cattle farms, homes for the disabled, even red-light districts;
immerse themselves in these communities by observing and interacting with people;
use these interactions to identify unmet community needs; and
devise solutions to these unmet needs that could create impact.
This curriculum is intended to train students to innovate, create, and begin to consider entrepreneurship as a serious career option. The goal is to help them go beyond traditional ways of thinking about their prospects and potential and ignite a change in attitude, driven by self-efficacy.
The results: I have conducted more than 40 intensive, hands-on MakerFests, innovation workshops, and entrepreneurship boot camps around the world, reaching some 1,500 people. These events have given rise to several startups, whose products and services included mobile apps, medical products, and community building.
However, these workshops are not primarily about teaching technology, solving problems, or even launching ventures. They are about helping students build self-efficacy to pursue larger missions.
I strongly believe that if we want to build an ecosystem where entrepreneurship is seen as a valid choice, it is important to start changing attitudes while students are still young and unafraid to experiment. We need to build a community of students who can support each other in innovation, and we need to support them by providing mentoring as well as maker-spaces where they can meet and work on projects.
To do this, I am now moving my work into middle and high schools—helping the Indian government roll out Tinkering Labs and innovation training programs in more than 1,000 middle and high schools across the country to develop future innovators and entrepreneurs. As part of this endeavor, this summer I helped train 48 engineering and business students from top institutes around the world—including MIT—who subsequently went out to schools around Delhi and mentored students in eighth through 12th grade in basic design and making skills. This new, hands-on way of learning made a huge impression on the children, and I expect that for many the experience will seed a passion for innovation going forward.
Next steps: What began as an SDM research thesis has now become my life's mission—my current goal is to incubate 1,000 entrepreneurs. These entrepreneurs will stumble and learn their way to founding companies that create jobs and wealth. I believe that catching them young will allow students to be unafraid of bypassing conventional routes to employment and live up to their full potential.
About the Author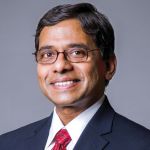 Rajesh Nair is an award-winning entrepreneur and the holder of 13 US patents. He currently serves as chairman of Degree Controls Inc., a company he cofounded. He is a visiting scholar at MIT and a senior lecturer at the Asia School of Business, where he serves as director of the Innovation and Entrepreneurship Center.
He holds two bachelor's degrees: one in physics from the University of Kerala and one in electronics and communications engineering from the Indian Institute of Science. As a graduate of MIT System Design & Management, he also holds a master's degree in engineering and management from MIT.